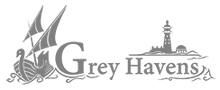 Grey Havens are a crew of Three Rings alumni who operate and maintain games created by now defunct Three Rings Design.
The games they currently own and operate Spiral Knights and Puzzle Pirates. Many of their previous creations are open source and can be found on their GitHub.
The name Grey Havens, much like Three Rings, is a reference to J. R. R. Tolkien's Middle-Earth. According to the Lord of the Rings Wikia, Grey Havens is an Elvish port city on the Gulf of Lune in the Elven realm of Lindon in Middle-earth, also known as Mithlond.