Groups allow people to join together over a similar interest. Each group contains a discussion forum and rooms for members to socialize.
Creating Groups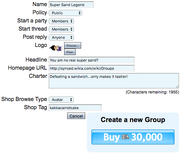 Select the groups tab and click the 'make your own group!' link above the group lists. Fill in the options as you desire and select the create group button. The name of your group must be unique and not have been taken or used previously. Creating a group costs 30,000 Coins.
Joining Groups
To join a group click on the Groups tab in the header. You will see a list of groups, and from there you are able to choose to join one of your choice.
Some groups are invitation only. It is impossible to join them without having been invited by a manager.
Viewing Joined Groups
To see a list of the groups you have joined, click on your Groups tab, and then on "My Groups".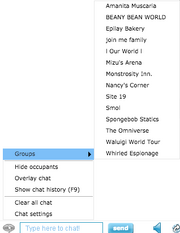 Group Chat
To join a group chat you may press on the chat options button to the left of your chat input at the bottom of the screen. When a popup appears, simply mouse over your list of groups and select which group you'd like to chat with in order to enter the chat.
Managing Groups
Group Managers have the ability to, as their title implies, manage groups. They can be appointed by any existing manager of the group, including the founder.
Abilities
Group Managers can:
Edit group rooms as if they were their own
Remove members from group
Promote other members to manager status
Demote managers other than the founder of the group
Edit the group's charter
Delete discussion posts
Mark discussions as announcements
Pin discussion threads
Lock discussion threads
Adjust room privacy
Change users/managers shares in sold items
It is inadvisable to promote someone who you do not trust to manager status.
See also